Discussion Starter
·
#1
·
First off I'm not sponsored by or have any affiliation with Shimano, although I would take a Sponsorship if they offered me one.
I want to talk to you guy a bit about the Curado E7 baitcasting reel. It is IMHO the best casting reel on the market at almost ANY price. I have 2 and love them to death. I have had many other baitcasters in the past from old round Ambassador's to the Revo's and some Quantum's and a bunch of the older Shimano's Like the Citica and Curado BSF.
None can hold a candle to the new E7's this reel is so small and lite compared to the older Curado's but it has the same line capacity and the same size gears and drag system. It casts like a dream to I hardly ever have to adjust it going from lure to the next as long as the weight is anywhere close. It is the high speed retrieve at 7 to 1 which I like as well for fishing buzzbaits and whatnot. But I can fish cranks easy to by just slowing the reel down some. I like the looks of this reel as well the cool green paint has glitter in it that catches the light and sparkles and it fits in my hand better then the older larger reels did.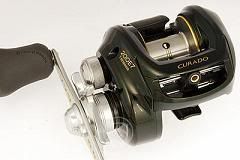 Backlashes are a thing of the past with this reel as I can cast even very lite baits with it properly adjusted with no problem. I also reallllllllllllly like the fact that this new E7's the side plate stays attached, so to no more dropping it in the water. Like i did with an old Citica. LOL
I use the Curado-201 E7 which is the left hand retrieve reel. I'm right handed so I hold my poles (both spinning rods and baitcasting rods) in my right hand and reel with my left. IMHO 90% of the guys out there are fishing with the wrong reel, so if you hold a rod with your right hand get the 201E7 period!!! Don't let anyone tell you different. If you hold a spinning rod and casting rod with your left hand then go ahead and get the 200 E7
I got mine brand new off Ebay for $138 and free shipping. I wish I had 5 more but alas I'm po folks. LOL
If you are in the market for a new baitcaster I highly recommend the E7. I wouldn't trade my E7 for a reel that cost 10 times as much.

Here is a review by Tackle Reviewer that has a lot of good info on it as well;
http://www.tacklereviewer.com/review/shimano-curado-e7-review