Discussion Starter
·
#1
·
First I wanted to extend a personal thanks to Mike Hostetter, Mike Coffee, Frank White, and especially Rick Cueva, who made my trip a reality while I was on buiness in Washington State.
I looked all over for a guide, and almost all the guide I found for Washington State were on the Eastern side of the state. So then, being an FLW member and member of an FLW affiliated club, I figured why not look for a local FLW club.
I found the Puyallup Hawg Hunters first try. I began my search by calling those people who lived in Tacoma, since that is where my hotel was and was able to get hold of Frank White, shortly there after, Mike Coffee who I had email previously said he had found someone from the club to take me out.
I sent my point of contact information to Rick Cueva, his wife called me back very shortly after that to say Rick was taking me out but that he could not talke because he was driving. I was very excited, so I looked up the location on my GPS and set out to find the launch point. Once there I called Rick to ask where I could find something to eat, sadly I found out he was running behind and would not bere there for an additional 30 mintues or so.
Let me tell you, it was WELL worth the wait. Rick was very confident he could put me on some smallmouth, although he did caveat that by saying he didn't know how big they would be. He was right, not far from the launch I caught two small smallmouth within 5 minutes of arriving at the first spot. I was stoked.
Rick suggested we make a trip further up the lake, we did so, and in a short amount of time I felt alot of extra weight, I set the hook, and I knew instantly this was a nicer fish. When she finally gave in, I brought her on board, wow what a fat fish...
I forgot to measure as I am told thats how many people up north and on the west coast grade your fish but she weighes in at just a shade over 3 and a quarter lbs.
Here she is:
and again:
Not bad for my first time fishing for smallmouths in a LOONG time. Again, a short time later, I felt a small *tick* on the line and never felt the fish, but saw my line swimming off, so I began reeling and swept Ricks rod back, and felt this fish begin fighting as soon as the hook came in contact with her mouth.
This was a fighter... A VERY nice fight, long before we ever got her aboard the boat we knew she was a nice fish as we saw the flash of her golden body several feet below the water, so I had to let herself wear out, and Rick did a perfect net job!! Thanks RICK!
She was right at the 4 lb mark as the scale was reading right between 3, 16 and 4 even the whole time. AWESOME!!!
Here she is: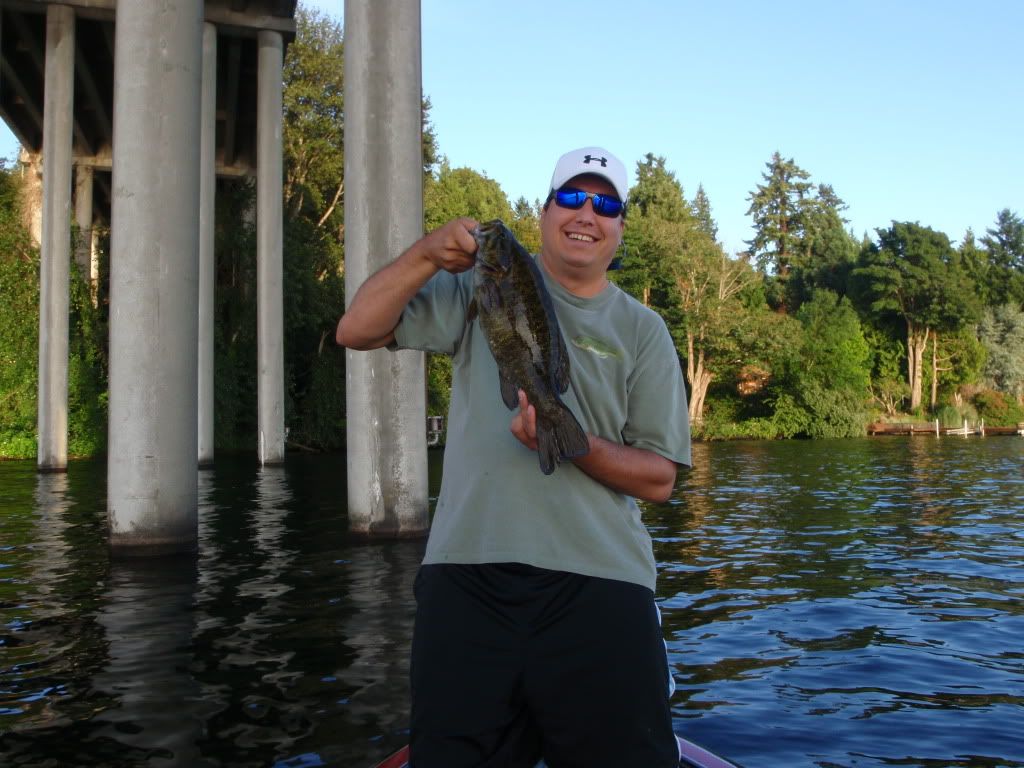 Better close ups: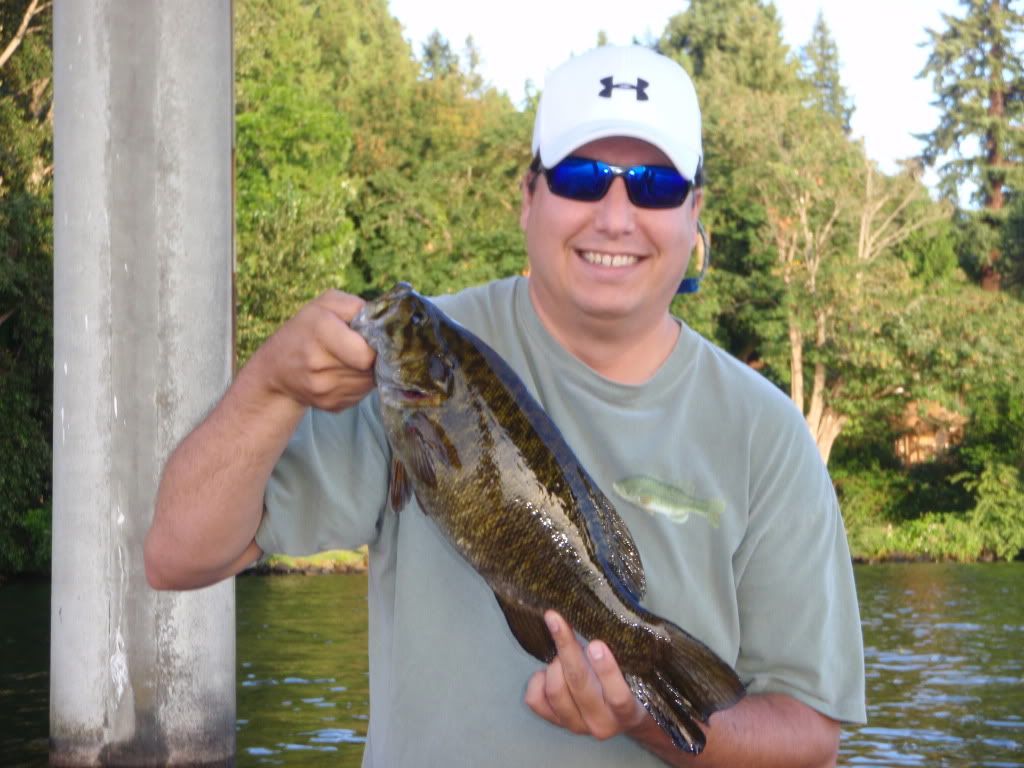 All in all I caught around 9 smallies in a short time, and would have easily cracked between 11 and 12 lbs on the top five fish... I had a GREAT time...
I sent an email to all you Puyallup Hawg Hunters, and I am serious, if you ever take a vacation to Florida, by all means please call, and if I can make it, I will attempt to put you on the greenfish the way that Rick put me on the brown footballs!!
Thanks so much, hope you enjoyed the story as much as I enjoyed typing it!
Sincerely,
Mike Akridge!
Land O Lakes, FL