Discussion Starter
·
#1
·
Went with Les, arrived last Saturday, Had a reccie, went to digs, got ready and went on the beer. .pint
Got up on Sunday early, went to Killykeen Forest, felt great, BUT, all of a sudden i felt like ****, ran into the woods and proceded to empty my guts, puked all over the place, God i felt awful, so slept most of the day, :wacko: in the car.
Les had a good day tho,we put it down to a Chinese meal i had eaten on Friday, Les and myself had eaten the same stuff on the boat, and in the village, !!! skimmers aplenty.
But the fishing went from good to bad,
Best fish fell to Colin, a fine 5lb tench, i'll post the picture later.
We went to Town Lake, got blew off, high winds and heavy rain all morning,
We went to the sandy point on Killykeen, i had one fish, Ron had 3, Les had one and Colin blanked, so we went to the footbtidge again, then the fish started to come to the hook.
The rest of the trip is not worth mentioning, the fishing was dire, the weather was windy, yet another big let down for the fishing trip to Ireland.
The fishing, very slow, altho we did catch, not as much but what the heck.The good sized hybrid at Killykeen saved the fishing, the other places we went to, bah, to bloody windy to detect any bites, we were reeling back in with the maggots sucked to bits!! that was on every cast. If we could have seen the bite, well, thats another story.
I did have a chat with a lad over there about the fishing, !! or rather the lack of it, he said that there are no restrictions about the fertiliser they are allowed to dump on the land, !!! not say there are toxins in the stuff but the excess is drained into the water system !!!!!!!!!!!!!!!!!!!
I wish the Irish Government would attempt to sort the decline out. We did not even see any Foreign notionals in the boats trawling for pike, in the bar there was only a half dozen English anglers, to me and many othere that says a hell of a lot about the state of angling in Ireland
Colins Tench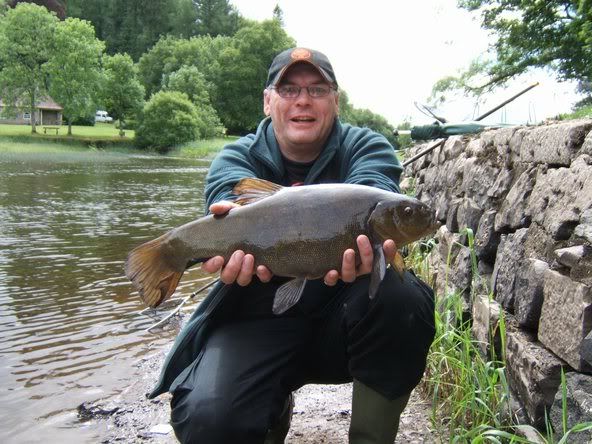 Sundays bag from Les on Killykeen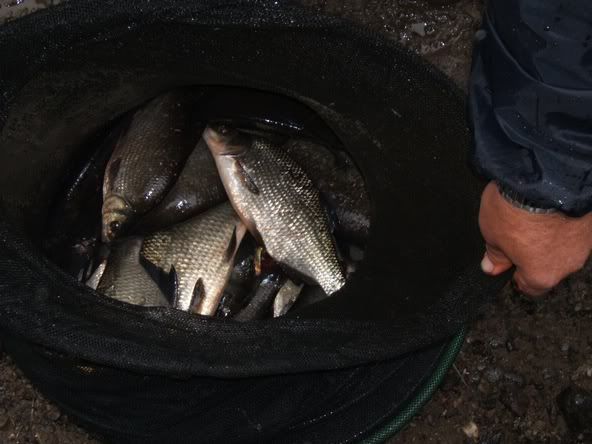 And a skimmer from Ron