Discussion Starter
·
#1
·
I tried to get my Mom to go fishing, but with this cooler weather, she felt that it was too cold. LOL Oh well, I went fishing.
I tried to go for some carp, but the water was stained badly, and all the fish that I saw spooked really easily. After trying for about 35 mins, and getting frustrated, I decided to go bass fishing.
I was honestly tired of fishing the same ole same ole............and so I went looking. I happened to find, in my worm bag, some light amber colored Berkley Power Worms, with black and red flake. These worms have the curly tail.
I was fishing the 4 rock piles, and I knew that since I hadn't fished there in a while, at least 1 bass would be there. And I was right.
I had made 2 casts, and at the end of the 2nd, I had one giant "thump". I kinda scratched my head, knowing that a rock wouldn't do that to my worm, and I started reeling. It stayed slack, so I set the hook. After about a 15 second battle, this gorgeous bass came to my thumb. I think that I did a good taking this first pic, considering that I was holding the bass and the camera! LOL ;D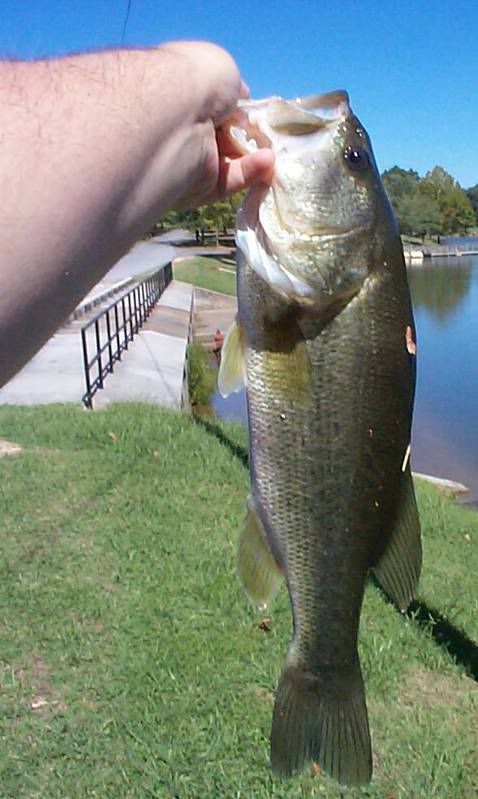 Here's a pic showing how long the bass was. It's around 16" long.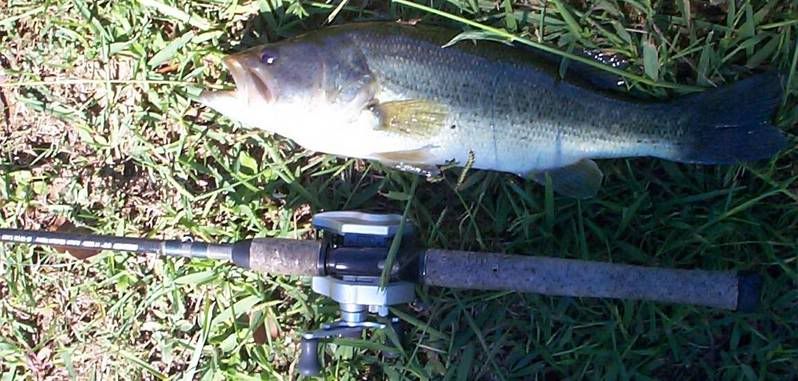 This is the second bass in 2 weeks that wasn't 12" and 1 lbs., that I have caught from Sloppy Floyd. The other was like 14" long, and around 2 lbs., and it was given to a fellow that was fishing for some shellcrackers for supper. So, he got a bass for the meal as well.
I am guessing that this bass is 2.5 lbs. It's great to see that the bigger bass are moving back up shallow again.