Discussion Starter
·
#1
·
Well I am glad we went out fishing today that's for sure. Weather was not nearly as bad as forecasted.. very little rain and although it was breezy it sure wasn't the 80kph gusts they were calling for. The creeks were swelled and mostly unfishable so we headed out to yesterday's perch spot , but only a couple perch caught so we headed to some of our springtime crappie spots looking for slabs. We didnt know if they would produce in the fall, boy were we surprised.
I chased the big bluegills down while Sleded hunted monster crappie, and we did well as a duo. I got a ton of bluegills, I dare not guess how many.. Sleded got into some real nice crappies. 11 & 12 inches were the top sizes. He also had a nice little pike on for a bit but it bit through his 6lb line eventually.
All these fish were caught from shore, using minnows below a float. A few were caught on small grubs. Fishing about 4-6 feet of water with sparse vegetation.
Here's a couple of pics.
Sleded's slabs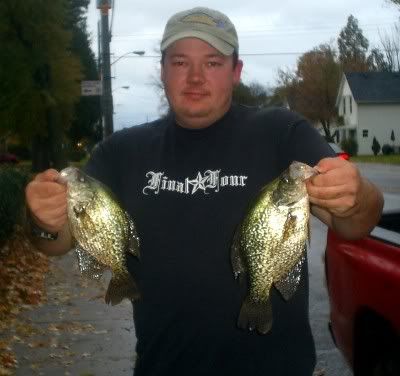 Some ugly SOB with a couple of gills ;D
Was a great day Sleded, glad we went out instead of hiding from the weather!