Discussion Starter
·
#1
·
Last week I had a few runs out on Butler Chain with some very good results. With a couple runs into Lake Down and Lake Butler, I found the bass to be more active n the deeper waters, spinner baits and steel shads were the ticket to catching bass in 10 to 16 foot of water. Mid and last part of the week, we saw ourselves catching bass back along the grass beds, working wacky rigged Gitem K.O.s right up along the grass edges and scattered points. Sid had an early morning hook up with a toad of a bass, hitting a High Roller ChugRoller in Firetiger color, she came up and danced a few time before she managed to shake loose. This gal was an easy 6 pounder, and had everyone pumped for some good top water action, which just never kicked in.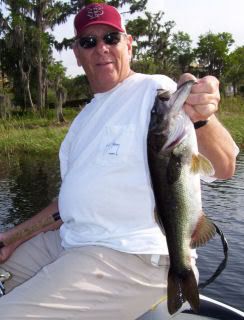 Working Lakes Sheen, Pocket and Tibet, the Gitem K.O.s were the ticket for sure. Sid did try to, as he said " force a top water bite" getting several blow ups on the ChugRoller with none hitting good enough, although he did have a serious blow up on it in Lake Pocket, only to pull it away from her. Sid did manage one small buck on the Steel Shad. Best part of the day, was seeing Sids dad, at a young 88 years old catching bass on a wacky rig. This father son team was a great pleasure to have on the water, always great to see father and son out on the water and having a great time. Side note for Sid, I tossed around an Original High Roller in the same area, hooked a nice toad but she managed to get to the dock and break off!! Past several weeks has been a lot of artificial bait trips with 4 to 6 hour trips averaging between 10 and 25 bass per trip. Bass are still active, just very little schooling action has been seen lately.
Till my next report, tight lines and great fishing!
Capt Tim Fey
Bassfishingfl.com