Discussion Starter
·
#1
·
The state park that I frequent has some bruiser shellies in it. They were up on bed 2 weekends ago, and I saw 2 that were staying in the back, not dedicated to any beds, that were literally as long as some 14" bass I had just caught.
I came back 2 weekends later, after fishing the Rocky Mountain PFA the weekend between, and wasn't looking for any shellies, but was wanting to get some crappies. I had a "Grandpa's Crappie Jig" tied on, and I was fishing a rock pile that I fish a lot for bass.
I made a shot to the far side of it, where a piece of rebar comes up from the pile. I brought the jig down the side of the rebar, and got an immense thump. I set the hook, and the fight was on.
After thinking that I had a bass, I came to the realization that this was a monster shellie..........the biggest I had ever seen or caught. I got it on the dock I was fishing off of, and thought better of weighing it on the dock. I took it to dry ground, and it come out to be 1 lbs. 1 oz.
I brought it home, showed it to my Dad, and he said that it was the biggest shellie he's ever seen, and my Dad has fished some places where the shellies grow huge!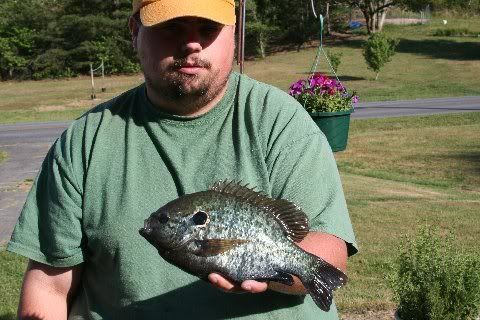 This picture has the cracker, and a 13" bass I caught the same day, on one of my homemade jigs.