Discussion Starter
·
#1
·
Once again Daz and myself went to Meadow Waters today. A most appreciated offer off from Daz.
Got a text from Daz. ON WAY, it said, hecks i'm not nearly ready, no thermos done, no soup done !!!!!!!!!, so with haste i done my thermos flasks, hot water for tea.
Daz arrived at around 07.25am. Gear loaded into the van and away we went,
I then got another text on my mobile, YOU FORGOT YOUR SOUP, damn, there goes my food for today i thought, but i did have my thermos flask with hot water for tea at least..
We popped into the tackle shop at Boroughbridge for some terminal tackle en route.
We arrived at Meadow Waters, good no-one on the back pegs.Parked up and ready to tackle up. We both fished the feeder rod again, Daz was confident of whooping my ass again, ok i said, lets do it. The weather was very pleasant, sun shining and warm, altho it did get a bit cold when the clouds hid the sun
Baits for today was
White maggot
Bronze Maggor
Red Maggot
And as ever Daz had his worm ready to chop and feed is swim.
Tackled up and ready to rumble.
Here's my peg
The firts fish fell to me, a nice skimmer of about an half pound in weight, i then caught another skimmer, then it was Daz's turn to catch, Daz was into the roach and perch
I did manage to catch more skimmers and roach. I was finally rewarded with my first bream of the year, a very tentative bite in which i struck, bang, bang, bang, "could be a tench" i said to Daz, after another few bangs and tugs it went into a typical bream fight, sluggish and ready to be landed. And here he/she is, the mouth of the net is 18inches wide.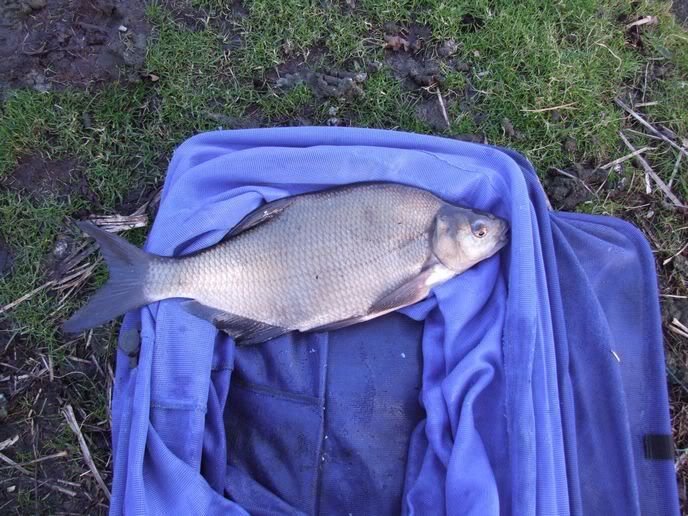 Another shot of the fish
After about four hours i dercided to have a walk arounf the place, I got chatting with a fella from Leeds, decent enough bloke, considering some chaps i've met from Leeds are complete tossers. Anyways i digress.
We had a good chat about Ireland and how the fishing in the South has declined in the past 5 years or so, i then went on to tell him about my trips to the North and fishing the River Bann.
All the while we were chatting he was catching fish on the float, roach after roach fell to his rod, right i'm off to get some more fish out i said, cherio and away i went.
Back on my peg the fishing/bites had dried up,Daz decided to try the pole, a few roach came to his line, but he was soon back fishing the feeder rod. Ir was then the turn of Daz to go for a walk around.
The bites had dropped off to nothing, altho i did get one more roach.
In all i had
7 roach. 5 skimmers and my bream.
Daz had 19 roach in his bag, and here they are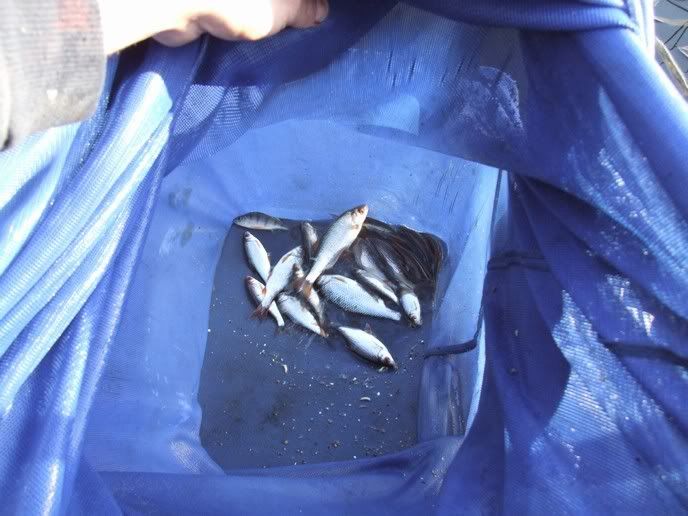 Yet another great day on a great water with my mate Daz
Here's view under my seat on my tackle box
The rigs you can see are POLE RIGS,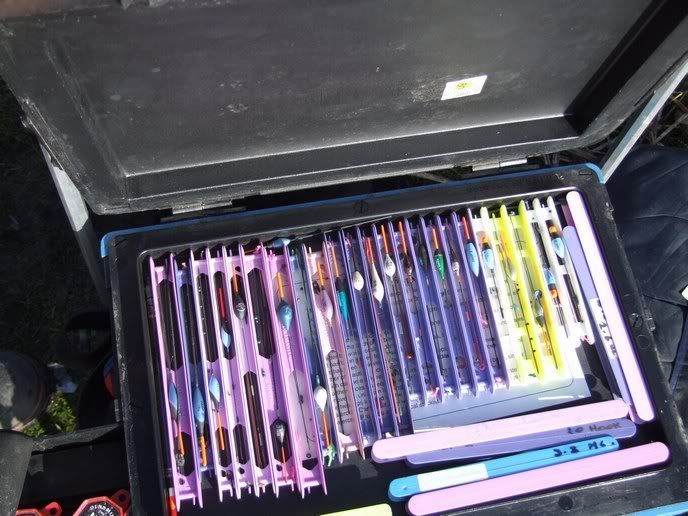 Hope you have enjoyed another fishing report from the UK