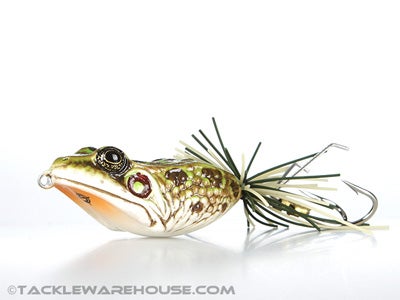 This weekend I had the chance to try out this new awesome looking hard bodied frog. What I really like about the frog, other than the amazing detail, is the hook placement. I imagine with the hook placement where it is, unlike most frogs on the market, there is no plastic to worry about moving out of the way. When the fish hits, he is getting the points immediately.
When I pulled out my frog rod and showed D'Chil this new EVOLVE bait, he had the same concern as I did, "...but how weedless will it be?"
When the bait is placed in the water, it sit's tail down, nose up, nearly straight up and down in the water at almost a 90 degree angle to the surface. That too made us wonder how weedless.
Well, that question was soon answered as I tossed my frog in a large mat of emergent hydrilla and lily pads.
To our surprise it was EXTREMELY weedless. I cast it repetitively into the thickest weeds I could see and I never felt so much as a slight snag. It effortlessly came through everything. I was very impressed!
However, I can show no fish pictures at this time. With the cold front that blew in, we couldn't BUY a topwater bite, regardless of which bait we threw.
In any case, this is an awesome bait and dare I say, the most realistic looking frog on the market!
Tackle Warehouse carries EVOLVE's line of frogs. You can check them out
Here (click here)
They also have a series called the Pulse Frogs, which can be seen
Here (click here)