Ok guys here is the feedback on the keeper springs and screw locks.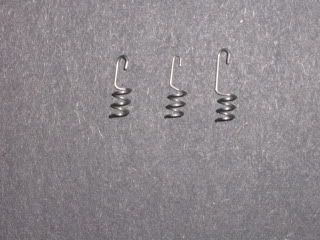 I have the following molds for the spring keeper: FBB-6-SLA, SRH-6M-SLA, SRH-6G-SLA AND WRM-6- SLA. Now these keepers come in two wire diameters .020 and .024. See picture above. The 1st spring from left to right is a Do-It mold spring. The second spring is the .020 wire diameter and the 3rd spring is the .024 wire diameter. As far as the other two springs are concerned, you can see that the .020 spring is about the same height as the Do-It spring. The .024 spring however is much taller which poses the following problem. In all of the molds that I have mentioned, the .020 and .024 spring will work in all the cavities except the 1/8 and 1/16 oz cavities. Now the .020 spring will work in the 1/8 and 1/16 oz cavities however you may have to bend the long leg a bit as it is too long and sticks out too close to the sprue hole which may give you incomplete pours. The .024 spring will not fit in the 1/8 and 1/16 oz cavities because as you can see in the picture below, it is longer than the .020 spring and it is harder to try to bend to make it fit. If you look at the picbelow, you can see what I'm trying to explain. In the 1/16 oz cavity, the .024 spring breaches the sprue hole, in the 1/8 oz cavity, the spring is very close to the sprue hole which may cause pouring problems. This happens to all of the molds I mentioned to all of the 1/16 and 1/8 oz cavities. Now as far as the quality of the springs they are excellent, they fit in the molds with no problem as far as sitting in the cavity. Also the .024 diameter wire matches within (.001) of the original, and the spring outside diameter is with-in (.002). So this spring can be used in the Do-It molds I have mentioned with the exceptions noted.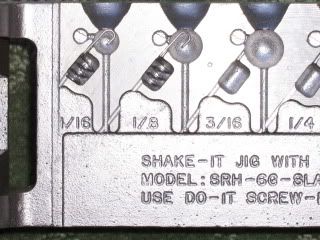 Now on the other screw-lok neither of them would fit a Do-It mold, as their outside diameter far exceeds the cavity it needs to go in. See last pic. However I don't believe they are meant for that anyway.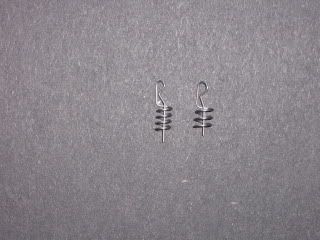 If anyone needs more info or dimensions, PM me and I will help you with what you need.